Why the Rude Mechs thrive in Austin's risk-taking new work community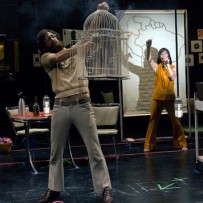 First published February 2012 at CultureMap Austin.
This week, Rude Mechs is showing their newest exploration, CL1000P (working title), to sold out houses of Austin theatergoers who will then have a hand in the play's development. After each show, audience members will get to share their opinions and suggestions in post-show discussions directly with the artists themselves.
Since 1995, the Rude Mechanicals have been a dynamic force in the Austin theater landscape, truly emphasizing an ensemble-based company committed to the collaborative creation of brave new works for the stage. Their work and their process run counter to the established structure of the American Theater, a structure that is not built for taking artistic risks.
We spoke with the Rude Mechs recently about the origins of CL1000P and how they have developed such a unique freedom to create here in Austin.
Three of the six co-producing artistic directors (Shawn Sides, Thomas Graves and Lana Lesley) and a couple of the 30 company members (Robert Fisher and Hannah Kenah) sat with us for a quick coffee break from rehearsals of this new work.
—
On your website you say that 'perhaps the most astonishing description' of your creative process 'is the one that lacks all metaphorical drapery — Rude Mechanicals is made up of six artistic directors who have chosen, day after day, to commit to each other for 15 years.' You have had great success working together for that long now, any idea what the special juice is that makes that work?
Lana Lesley: Insanity is a really special juice that we pour into the mix.
Shawn Sides: I think the fact that we started as a collective. I think if we'd been a top down sort of organization and one of us had been an artistic director and another one was an executive director, then it wouldn't have lasted. You can get a job that pays more doing that sort of siloed work and being bossed around. We intentionally structured it from the beginning to be consciousness-based.
How much do you think the audiences of Austin are a part  of the work that you do?
Thomas Grave: In some ways I feel like they are with us in the room all the time. The reason that we do these workshops is because we have so much incredible feedback from our audiences. They really shaped The Method Gun. Based on the feedback that we got, we have changed that show entirely.
LL: Also that we are them. It's our community. It's the people that we hang out with and know so we are very connected in that way.
What is it about Austin? What makes it such a great womb for creating new work?
SS: Austin audiences really understand about first drafts. They are patient and even excited about seeing it early when it's bad and it doesn't make any sense and is still just a sort of barely formed idea. These audiences understand that it's early and it's almost intentionally going to fail right now.
Robert Fisher: There's also a great sense of curiosity in Austin audiences about process; about how things develop and change as they move through different stages. When you can see something in multiple stages, in a lot of respects each stage is very different and then those things coalesce into something else, and our culture here is very receptive of that. People get excited about seeing how threads move from one thing to another.
TG: It's very important for us, when we are working on a new piece, to be able to have this opportunity. Because we are doing live performance, we don't even quite know what we have until we have the other part of the equation, the audience, that's there with us.
What was the kernel or the seed of this particular work?
SS: Wow. We have to go back so far, so many drafts ago.
TG: When we very first wrote a grant for this to the MAP fund grant (The Multi Arts Production Fund) it was called Cagney and Lacey and A Thousand Plateaus; the working title that we have right now is CL1000P, so that is shorthand for that. That is something that we had talked about, I don't know, four years ago and that has since gone away. There is hardly any Cagney and Lacey in there.
SS: There's no Cagney or Lacey.
LL: There is sort of some A Thousand Plateaus, a little bit.
Hannah Kenah: I think you could say there's A Thousand Plateaus.
LL: That could apply to any of our plays.
What does A Thousand Plateaus mean?
SS: Its a Gilles Deleuze book.
LL: It's a philosophy book about. . .  We have a history of adapting things that people would find difficult to adapt to the stage. I think along that vein, Thomas had brought this book in. That is why we started talking about it to begin with.
TT: But all that is not there now. That's kind of an example of how we'll start with one idea and get into the room and start talking about other stuff. One thing will lead us to something else or we'll start exploring that and realize we're not quite as passionate as we thought we may have been about something and so throw that out.
LL: Right. If we don't have a consensus around something, then it's not worth beating on it too hard.
TG:  Since then we've been working on Crying of Lot 49, looking at alternative reality games, and now we're looking at evolutionary biology and ornithology and the Romantic era.
—
When the Rude Mechs have completed this workshop production of CL1000P, the show will go back into development and rehearsals for a planned premiere in May. It will be interesting to see how the production will evolve from there — one guarantee is that the new collaboratively-birthed project will be one you cannot miss.