Three or The Sound of the Great Existential Nothingness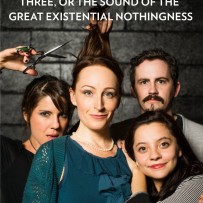 In the summer of 2013, I had the pleasure of originating the role of Olga in Timothy Braun's Three or the Sound of the Great Existential Nothingness at the Breaking String Theater in Austin, TX.
In Timothy Braun's fantastical re-interpretation, five characters from Chekhov's 1901 masterpiece live highly circumscribed existences in a small town in the contemporary U.S.A. Breaking String presented an early draft at Hyde Park Theatre in December of 2012, and recruited an elite creative team comprising veterans of Austin's new works community for a brief development process. The result is a highly playful and theatrical piece in which Mr. Braun explores themes central to Chekhov's work: loneliness, the yearning for a better life, and the struggle to connect.
Reviews:
Austin Live Theater
Videos: